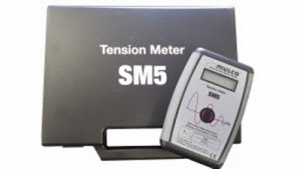 New generation Digital Belt Tension Meters SM5 and SM5-F
PIES Australia is proud to introduce the new generation Digital Belt Tension Meter SM5.
With the new SM5 and SM5-F you will experience a better and easier use :
- LCD display with back light
- Indicator which indicates the lifetime of the battery
- Beam of light indicating the direction of the positioning of the measurement
- Optimized measurement distance (from 2-5 cm between the sensor an belt
- The SM5 model is highly ergonomic
Our new SM5 and SM5-F take advantage of the new generation of electrical components which allows an allotted measurement range of 7 to 450 HZ.
The recent environmental norms concerning recycling have been taken into consideration and the new packaging of the SM5 and SM5-F is more environmentally friendly.
The new SM5 and SM5-F Digital Belt Tension Meter will be available in two different versions:
- With integrated sensor SM5
- With external sensor SM5-F
The SM5 and SM5-F Digital Belt Tension Meters are stock items and are available from PIES Australia for immediate delivery.