Reliable connections even under difficult drive conditions.
Timing belt lock for the ATN.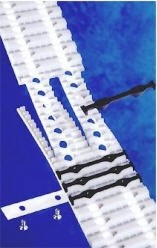 After scarcely one year on the market, the ATN polyurethane timing belt has already enjoyed considerable success. Developed by BRECO Antriebstechnik Breher GmbH + Co., a member of the innovative Mulco Group of Companies, the ATN now shows that intelligent further development can offer a wide range of possibilities for the tried and tested PU timing belt well into the future.

Drives used in transport engineering in particular frequently employ long timing belts which are located in hard-to-access areas and could previously only be installed from the side.

It was therefore necessary to dismantle paneling and retaining elements on many machines, which in turn incurred additional set-up costs. It often also led to the machines being larger than necessary, as the engineers had to provide sufficient space for assembling the toothed belt. Assembly on or removal from a complete machine was frequently not possible at all or only under difficult circumstances. Examples of such conditions are found in the printing industry or long transportation lines.

The ideal solution would therefore be a timing belt which can be locked in the machine, cuts down setting and assembly costs, reduces the size of the machine and yet retains all advantages offered by the ATN timing belt.

This is exactly the solution the specially developed timing belt lock from BRECO offers.
In this case the developers utilised the design and technical fastening possibilities of the ATN fastening system for exchangeable profiles. Simple connecting elements made from high strength polyamide and spring band steel plates are connected with screws to the designed oval holes in the timing belts and so connect the tongue-shaped timing belt ends.

Time and timing belt costs are clearly reduced now that the endless belts can be connected in the machine itself. The corresponding adaptation of the profile geometry also permits assembly within the fastening area and retains all the positive characteristics of the ATN timing belt.

The new ATN timing belt lock extends the extremely positive characteristics of the already widely used ATN timing belt with this further version and offers the designers all the advantages of a timing belt when changing from standard chain drives in hard-to-access drive.