The timing belt that learned to Hover.
ATP 10 used in hovercraft racing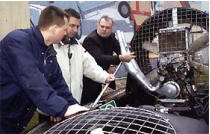 It weighs only slightly more than 180 kg, has two engines, two propellers and looks like a boat that can fly. Wherever its builder, Ingo Blank, from Hanover, appears, there is great excitement. This unusual vehicle is a hovercraft, a mixture of floating boat and tearing soapbox from England, the bigger version of which we got to know from car advertisements and excursions across the Channel.

Ingo Blank, 32 years old and a fully-qualified car mechanic with commercial training, is one of the few Germans to use a hovercraft for sport in Germany, and he has been quite successful at the international level of this sport which offers more than a hint of originality, professional ability, courage and something extraordinary and where big-name sponsors have yet to show any signs of marketing interest. The type of work carried out by Blank at Hanover-based forklift specialists Nicolic is stamped with individualism, constant fiddling about and adjusting as well as having the courage to continuously try and compete time and again at the Formula 2 races in Germany, even after 6 years in the sport. After all, this young man has already been second in this second-highest hovercraft race series, which restricts the total displacement of the engines used to 500cm3.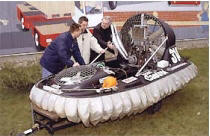 It was more than ten years ago that the man from Hanover came into contact with this unusual sport, which also makes great demands on mechanical ability as well as technical know-how, when an uncle brought back a hovercraft from England, where they enjoy great popularity.

Together with his father, who also still races, the Blanks enjoyed their hovercraft so much that Ingo started to build his own hovercraft. The hovercraft bug had got hold of him and has not left him to this day.

As fast as he is during the week-end training sessions and during the six 20-minute races, Ingo Blank nevertheless has an almost human problem: he constantly has to be aware of weight, not only his own, but also every ounce of his racing machine, which floats on its air cushion at almost 100 km/h over the course and which the pilot controls by means of weight transfer and two guide blades located in the airflow of the rear propeller. Every ounce which does not have to be moved has a positive impact on the performance.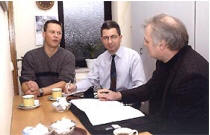 It was this application and the wish for even better weight distribution which, with the close co-operation of Jürgen Dittrich of MULCO EWIV partner Wilhelm H. Müller, Hanover, led to the introduction of a 32 ATP10 timing belt from the extensive product range of MULCO EWIV, European market leader for polyurethane timing belts. After all, the rear one of the two water-cooled two-stroke engines, a 350 cm³ Yamaha engine, delivers approx. 60 horse power to the propeller, whose rotor blades rotate at 3500 RPM when under full load to speed the tips at more than 500 km/h. The pusher engine generates 20 m³/sec. at the propeller, while the front 125 cm³ Suzuki two-stroke engine lifts the hovercraft 2.2 m³ every second.