BRECO® timing belts are now flying with Airbus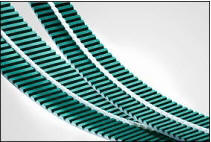 The world's largest passenger plane ever built, the Airbus A 380, completed its maiden flight in April 2005. Products from the Mulco-Europe EWIV-Group were also on board: self-tracking BRECO® timing belts, type ATK 10 K6, together with the respective pulleys. These polyurethane timing belts with high tensile steel cord tension members drive the two trolley lift systems of the "super jumbo". The Jenoptik subsidiary, ESW – EXTEL SYSTEMS WEDEL Gesellschaft für Ausrüstung mbH, developed this transport system to ensure fast and efficient catering and supply on this jet, which is equipped with two full length passenger decks and one cargo deck.

During a flight on the Airbus A 380, more than 500 passengers need to be provided with everything usually supplied on board a passenger plane. Few realize what a great logistical achievement this is and what equipment is involved in transporting the catering trolleys from the lower on-board kitchen to the higher passenger decks.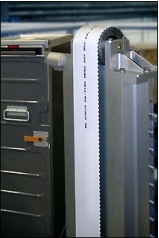 It sounds simple and outwardly resembles a familiar passenger lift, but it is a high-tech system and involves highly sophisticated engineering. The supply concept for up to 555 flight passengers on the Airbus A 380 has to meet the highest demands, and offer both speed and maximum reliability.

"The task involved differs considerably from the usual technical demands on our PU timing belt power transmission technology", explains Jürgen Cremer, engineer and transmission specialist at Wilhelm Herm. Müller GmbH in Hanover, which, as a Mulco partner in close cooperation with Breco Antriebstechnik Breher GmbH + Co. (Porta Westfalica) has been supporting ESW - Extel Systems Wedel since the development stage of the trolley lift system. And it was not just the geographical proximity of Hanover and Wedel, that led the team of 50 strong at ESW, headed by project leaders, Andreas Josenhans and Helmut Marquard, to choose BRECO® timing belts. "Airbus-Industries specified convenience, utmost reliability and minimal maintenance", the two engineers explain. Therefore, the BRECO® PU timing belt was the first choice as a power transmission system because it meets both the high requirements and technical specifications for materials in aircraft construction, and features virtually noiseless running, wear resistance and excellent dimensional stability. Minimal maintenance is an important criterion because the lifts in the airbus are built encapsulated from the passenger areas. A nylon tooth facing on the PU timing belt contributes to its extremely quiet running characteristics and high wear resistance.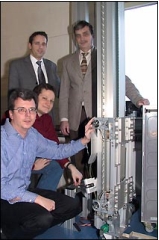 The extended time test, conducted on a lift for more than one and a half years, demonstrates how seriously the safety of the passengers and the flight personnel is taken. During this extended time test the lift moves up and down a distance of 2.94 metres one million times, carrying a weight of 240 kilos. It completes one journey in just under ten seconds.

"Just imagine the additional mechanical and climatic forces acting upon the trolley lift system during flights, starts and landings with up to eight times the force of gravity", says Dr. Klaus-H. Stölting, ESW-Vice President of Business Development and Communications, underlining the achievement of the entire team, and pointing out the light-weight construction of the trolley lift, which has an own weight of only 60 kilos. The aluminium mast consists of two half-shells running in resilient bearings. The endless timing belt runs over pulleys at the top and bottom of the mast and guides the bracket for the trolley. This construction is an example of how every excess gram of weight has to be avoided in aircraft construction. A high-torque electric motor drives the redundantly designed system, which is equipped with braking and safety devices to prevent the free fall of the heavy trolley in the event of a malfunction.

ESW and Mulco gained extensive experience when they equipped all Lufthansa's Airbus A 340-600 passenger planes with a similar trolley lift system. Among Lufthansa's