| | | |
| --- | --- | --- |
| | Idler / Tension Pulleys | |

Type M

The MULCO tension roller Type M is an innovative development. It is available in 7 standard sizes. The tension rollers are distinguished by a rigid, vibration-resistant load bearing design. The forces acting by the belt pull are reliably absorbed by the generously dimensioned D1 base diameter. The ball race and the load bearing structure are made of AlCuMgPb (F38). The tension rollers are over-mounted on the machine wall. The eccentrical fitting results in an easy adjustment of the belt pre-tension force. To ensure the swivel motion around the mounting axle, the face spanner (pictured below) can be used.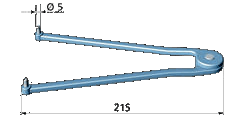 The MULCO tension rollers are fitted with high quality grooved ball bearings. The first filling of the bearings consists of a high-performance lithium saponified grease to ensure life time service. The greases are short-time temperature resistant up to 120°C. Permanent temperatures of 70°C and above will lead to a reduced useful life of the grease. The stated load bearing parameters refer to the entire tension roller on the basis of a centered belt load.

For further information please see the contact us.
Type 1
Type 2
BSR 71-100
BSR 73-100
---

Type B
Idler pulleys type B run on two deep groove roller bearings. The bearings are lubricated and sealed for life. Normal operating temperatures up to 70°C without reduction in life and temporary peak temperatures up to 120°C are allowable. The shafts are made from steel and the rollers and flanges are aluminium.

Type B/E with eccentric adjustment

Type B/F fixed centre
Type B with teeth on the running surface